Unless a church continually evaluates its ministry effectiveness—including the effectiveness of its facilities, it inevitably drifts toward irrelevance. But insignificance is not what the Lord has in mind for the Church! The church should be a proactive, driving force impacting its community. At Sage Hills Church we are taking this challenge seriously. Under the banner of our SHC mission of risking our comfort to reach our community to release freedom in Christ, we are saying insignificance and irrelevance are not happening on our watch! Instead, on our watch, we are going to insure our ministries and our facilities are continually renovated for ongoing increasing Kingdom (community) impact.
Sage Hills has grown by over 400 people since 2015 and we are set to finish 2019 with our largest attendance on record. Over 900 people have made new commitments to Jesus; we've baptized more than 300 people, and we've experienced over 37% growth in children's ministries. We've been accomplishing the SHC mission of risking our comfort to reach our community to release freedom in Christ. With all the growth and relational connections happening, we need to make space for our value of relational community. With that in mind, imagine we've turned the multi-purpose room into a large café which has easy access to an amazing outdoor play area for multiple ages. Now imagine a patio immediately adjoining the café with comfortable chairs, tables, fire pits, and plenty of places for relationship. This isn't a dream…it's a reality. The focus of 'Not on Our Watch' seeks to reach and bless our community with indoor and outdoor spaces that are practical, inviting, and promote relationship.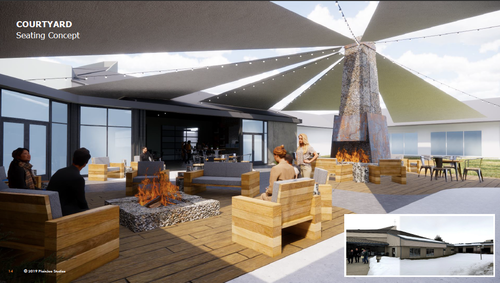 While our children's ministry has grown by over 37% in the last two years, having around 300 kids present on any Sunday morning, our kid's rooms have not been renovated since the children's wing was built in 2000. It's time to refresh some of the most important spaces in our building! We'll completely revamp the large group meeting spaces for first through third grades and fourth and fifth grades with some amazing, new and fun elements including new stages, climbing walls, upgraded sound, better visuals, and new graphics and theming. We'll completely re-carpet and renew the flooring and repaint each room. And…we are installing a slide! That's right! Immediately next to the interior stairwell we'll put a slide down to the lower level. On our watch, we want our students and teachers to have a fun and relevant environment that facilitates learning about the King.
Other than the current multi-purpose room, the Fireside Room is one of the most used rooms in the facility. Like the café, the renovation to this room includes large sliding doors that will give people access to the patio and play area. Groups that meet in the Fireside would have full, wide-open outside access making this room ideal as a community meeting space. In addition, the chapel and lobby will also receive updates with new flooring, new windows (in the chapel) and new graphics and theming in each.